Freephone advice Mon - Fri: 8:30am-5:30pm
COVID 19 Update | Status: Open
| The Health & Safety of our employees is of the utmost importance to us. All departments are still operational and happy to help with your enquiries.
Please note, that due to higher than usual levels of enquiries, it may take us longer than normal to respond. Please bear with us. |
COVID-19 FAQS
Living Wage Accreditation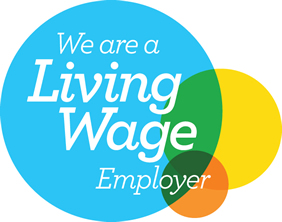 Equip4work has supported the Living Wage since 2008 and we are proud to announce our formal accreditation as a national Living Wage Employer.
This development demonstrates how our purpose and values permeate our day-to-day decisions and stand to make a positive impact and contribution to society.
Paying people who work for us a wage that supports a decent standard of living is the right and responsible thing to do. There is also a clear impact on social and economic business benefits. The perceived increase in costs of paying a higher wage is negated by increased staff happiness, productivity and encourages longevity in our employees. We have heard first hand from staff members and contractors how receiving the Living Wage has a positive impact on quality of life both at work and at home.
What is it
An hourly rate set independently and updated annually
The Living Wage is calculated according to the basic cost of living in the UK
The current UK Living Wage is £7.85 an hour
The current London Living Wage is £9.15 an hour
Employers choose to pay the Living Wage on a voluntary basis
The Living Wage enjoys cross party support, with public backing from the Prime Minister and the Leader of the Opposition
Paying the Living Wage is good for business, good for the individual and good for society
The Living Wage Employer Mark and Service Provider Recognition Scheme provide an ethical badge for responsible pay